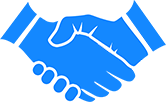 Advanced Software Development offers a full range of services for development of software of any complexity.
We adhere to a specific approach to the development of new software. We strongly believe that the main resource to create demanded software is certainly the ideas. Many IT-companies require customers detailed technical specifications, it is not surprising that some of the projects decay without its realization. We take it in another way, in our company constantly there are interesting concepts that help our products to be original, relevant and, most importantly, very easy to use. Therefore, we will be happy to participate in the implementation of each new, interesting ideas.
More than 7 years of experience in successful business cooperation with remote customers, among them you can find Yandex and LG Electronics, allow us to say that we manage our job very well.
If there is a worthwhile idea, but no skills or knowledge for implemention, it is not the reason for the refusal. For these very issues there are professionals, who are able to help other people with their interesting ideas. This keynote helps our company recieve promising ideas, develop them into a modern software, which meets all customer requirements and international standards and, most importantly, professionally implement them.
Now we are focused on developing programs and mobile applications for the following platforms:
Apple iOS and Mac OS X
Google Android
OC Windows
OS Linux
Game development is our other passion.
We do believe that sometimes game developing is more challenging than creating business software solutions. Our mobile developers use the newest operating systems and create co-working with our extremely talented designer team beautiful, user friendly, interactive, high-quality mobile applications. Advanced Software Development is the authorized Apple App Store and Google Play developer.
For more information, please view our portfolio and contact us.